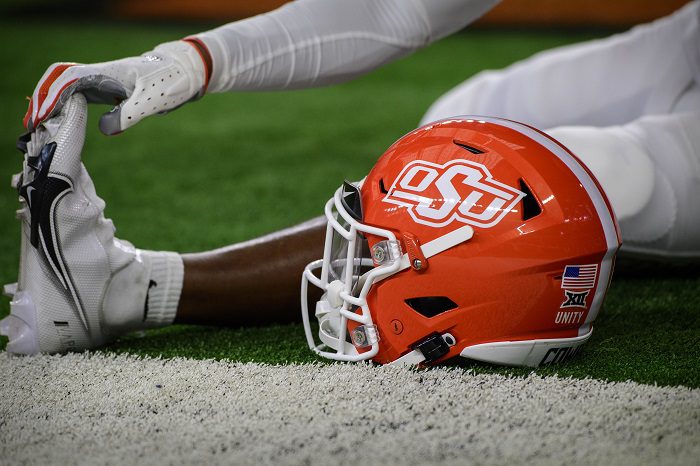 In my mind this post-game quote from a member of Oklahoma State's coaching staff is unacceptable:
"It's been difficult. You walk in after the game and you just don't know what to say to the offensive unit anymore, to the players or coaches. Things just kind of spiraled, and I don't have great answers as to why."
That's a quote you expect to hear from a head coach because he's fixing to have a serious conversation with the person he hired to run his offense. But head coach Mike Gundy didn't say it, offensive coordinator Kasey Dunn did.
To me, that translates roughly to "I don't know how to coach my unit."  That's bad. Really bad. In my opinion, it's time for Kasey Dunn to be replaced as a play caller.
Don't give me any of that "but injuries" business.  Every team deals with injuries every year.  The two teams playing in the Big 12 Championship game got there on the arms of backup quarterbacks. Texas Tech just beat the Sooners with a starter who was hurt at the beginning of the season that had to start playing again because the guy that replaced him got hurt and then the guy that replaced the hurt guy got hurt.
By the way, Texas Tech, a team OSU beat, scored 45 on OU in 3 quarters the week after the Cowboys only scored 13.
You can't tell me as a fan of the Pokes (or someone who watches them enough to see trends) that the offense isn't getting worse every year under Dunn. The game plans are weird. The play calls are off. There doesn't seem to be a rhyme or reason for what's going on.
Saturday's game against West Virginia is a great example. Yes, the Cowboys played a backup QB. Yes, the weather was terrible (I was there and I still feel cold the next morning). So why have a true freshman throw the ball 42 times? Why keep throwing deep bombs to receivers that are dropping everything? Oh because the number one running back was hurt and the offensive line sucks? Well turns out you have another true freshman, who's a running back, who is going to average eight yards a carry once you finally put him in halfway through the second quarter. 
While watching this debacle unfold from the stands I still wasn't done with Dunn, I still felt a twinge of pity because of the injuries, the weather, the lack of depth, and quality play on the line until the call late in the fourth quarter with the game on the line.
It's 4th and 3 and you come out in a 4-receiver set with your eight-yards-a-carry running back in the backfield. For some reason, you motion him out wide and throw a wheel route jump ball to him in the flat that unsurprisingly goes incomplete. I've seen some bad calls made, but that has to be one of the worst I've seen live with my own two eyes. 
If Spencer Sanders had been in the game I'd be okay with the call. Sanders can run. He's a multi-year starter who would've at least gone through his progression before lobbing the ball up. To put a true freshman QB in that situation was asinine.
Rangel might end up being a decent player, he's shown flashes in his limited playtime, but on a game-on-the-line 4th down in the cold rain behind a suspect offensive line you have to protect him.
Ollie Gordon should've stayed in the backfield. Even if you aren't going to hand it off you have to make the defense think you might so they can't pin their ears back and come after the mobile-but-not-really-a-run-threat QB. Do you think that thought wasn't creeping in the back of Rangel's head and maybe was part of why he just locked on to option number one and threw it?  "Can't take a sack! Gotta get the ball out!"
You also have to draw up a play for your best receiver and that isn't the true freshman running back. Gordon can catch well enough for a back and is a future star but that fourth down pass should've been to one of the possession professionals Brennan Presley or John Paul Richardson.  Whatever play you have in the book that gets them the ball quickly past the sticks should've been the call.
When it comes down to it I like Kasey Dunn. By all accounts, he's a good man. He seems genuine and kind. He pulls people out of burning car wrecks. He's a great wide receivers coach and I think he'd make a great head coach. 
He's an average-at-best offensive coordinator.
I don't know what Gundy will do. He can be loyal to a fault, but he's an ex-OC and has to see this stuff as well. He has to be seriously considering changes, both at OC and offensive line coach (Derek Mason will get another year at DC before you start in on me).
In my mind, the perfect answer for OSU is a demotion for Dunn. He goes back to being wide receivers coach, keeps his pay and his associate head coach title and OSU brings in another play caller but I think if that happens Dunn walks.
I'd hate to lose him completely but that's something I'd risk right now if I was charged. The timing is perfect. Spencer Sanders most likely had played his final game in OSU orange. There's still a bowl game and he could technically come back for another year (thanks, COVID!) but I get the feeling shoulder surgery is coming, and then the transfer portal.  A season as something like the one-year-rental at a place like Georgia would do a lot more towards his NFL hopes than another year in Stillwater.
If you're changing quarterbacks you may as well change play-callers at the same time.