Here are my admittedly optimistic election predictions. Drop yours in the comments, or on the Muskogee Politico Facebook page.
OKLAHOMA
I predict that Republicans have a generally good night in Oklahoma.
Governor Kevin Stitt pulls a squeaker off, beating Hofmeister with less than a majority. Stitt 48.8% Hofmeister 47.3%, Bruno 2.8%, Yen 1.1%.
Lieutenant Governor Pinnell wins with about 68%.
The State Superintendent is the main blemish for the GOP, as Ryan Walters falls just short, losing to Jenna Nelson 48.2% to 51.8%.
Attorney General: With no Democratic candidate, Drummond gets over 75% against the Libertarian.
Labor and Corporation Commission: Osborn gets right around 62%, and David gets about 70%.
Treasurer: Russ gets about 70%.
U.S. Senate races: James Lankford gets just under 70%, and Markwayne Mullin is held under 65%.
U.S. House races: All four Republican incumbents win, Bice being the closest at 58%. In the open CD2 race, Josh Brecheen wins with over 70%.
State Legislature: Republicans pick up one seat in the State Senate, and two in the House.
Republican Kevin Calvey wins the Oklahoma County DA race with about 52%.
NATIONAL – U.S. SENATE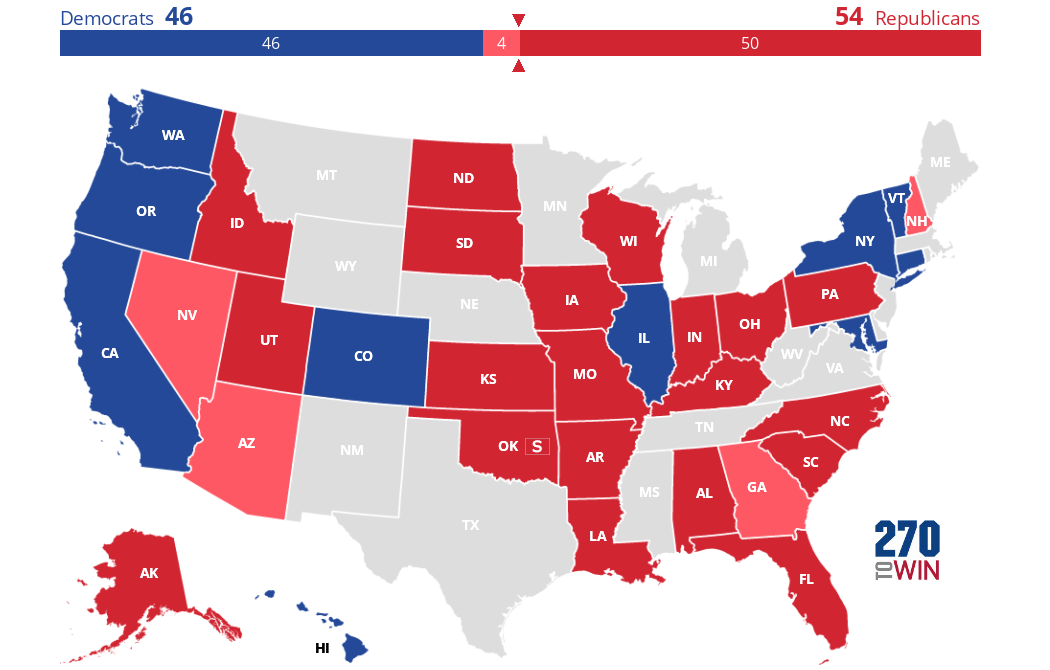 I have the Republicans picking up seats in Nevada, Arizona, Georgia, and New Hampshire, while holding all other current GOP seats (including Pennsylvania). 
Final score, 54 Republicans, 46 Democrats/aligned-independents (GOP +4).
NATIONAL – U.S. HOUSE
I'm not as well versed in the House situation, which is obviously somewhat complex, given 435 different seats. I'm going to guess that the GOP picks up about 30 seats.
Final score, 243 Republicans, 192 Democrats (GOP +31).
NATIONAL – GOVERNORSHIPS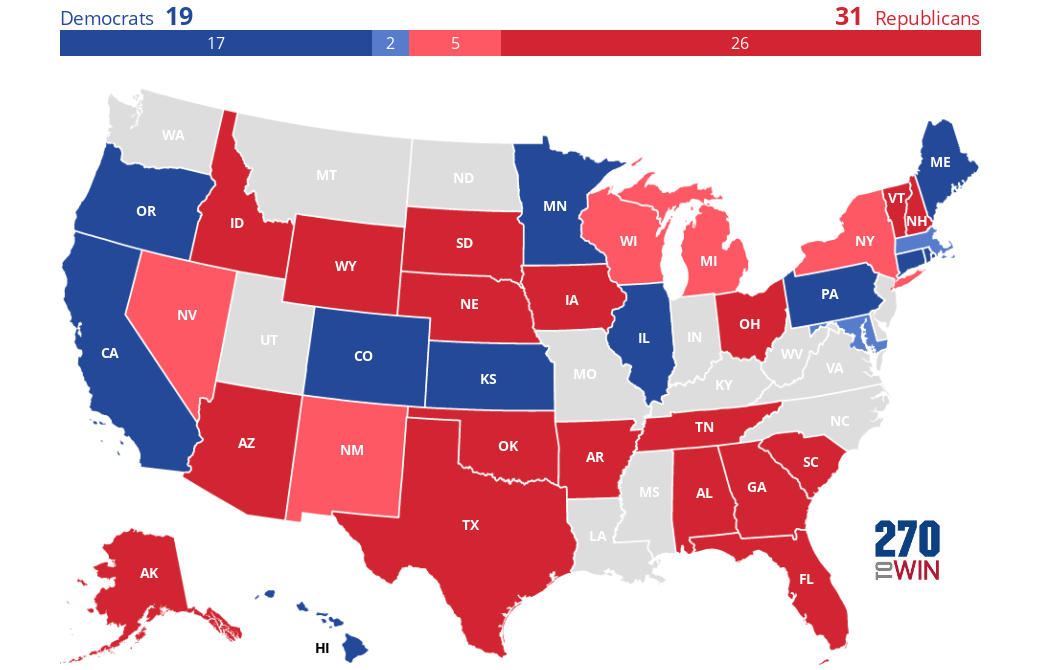 I have Republicans picking up seats in Nevada, New Mexico, Wisconsin, Michigan, and New York. Democrats flip Maryland and Massachusetts.
Final score, 31 Republicans, 19 Democrats (GOP +3).
What are your predictions? Leave a comment, or join the conversation on the Muskogee Politico Facebook page.